While there are many reasons that a bed liner is a smart investment for any truck owner, we wanted to highlight three of the most important. If you want to learn more about the many advantages that LINE-X has over a non-treated truck bed, be sure to check out the rest of our site.
Call LINE-X of Omaha for a free quote on a bed liner or protective coating today! We also have a great selection of truck accessories that can make your vehicle safer and more useful. If you haul valuable items in the back of your truck, we have tonneau covers available in a number of styles and sizes. We also carry toolboxes and cargo management systems for everyone who uses their truck for work.
If you want to turn your truck from stock to a highly customized vehicle that is just right for all of your needs, give us a call. We would be happy to tell you about all of the ways that we can help.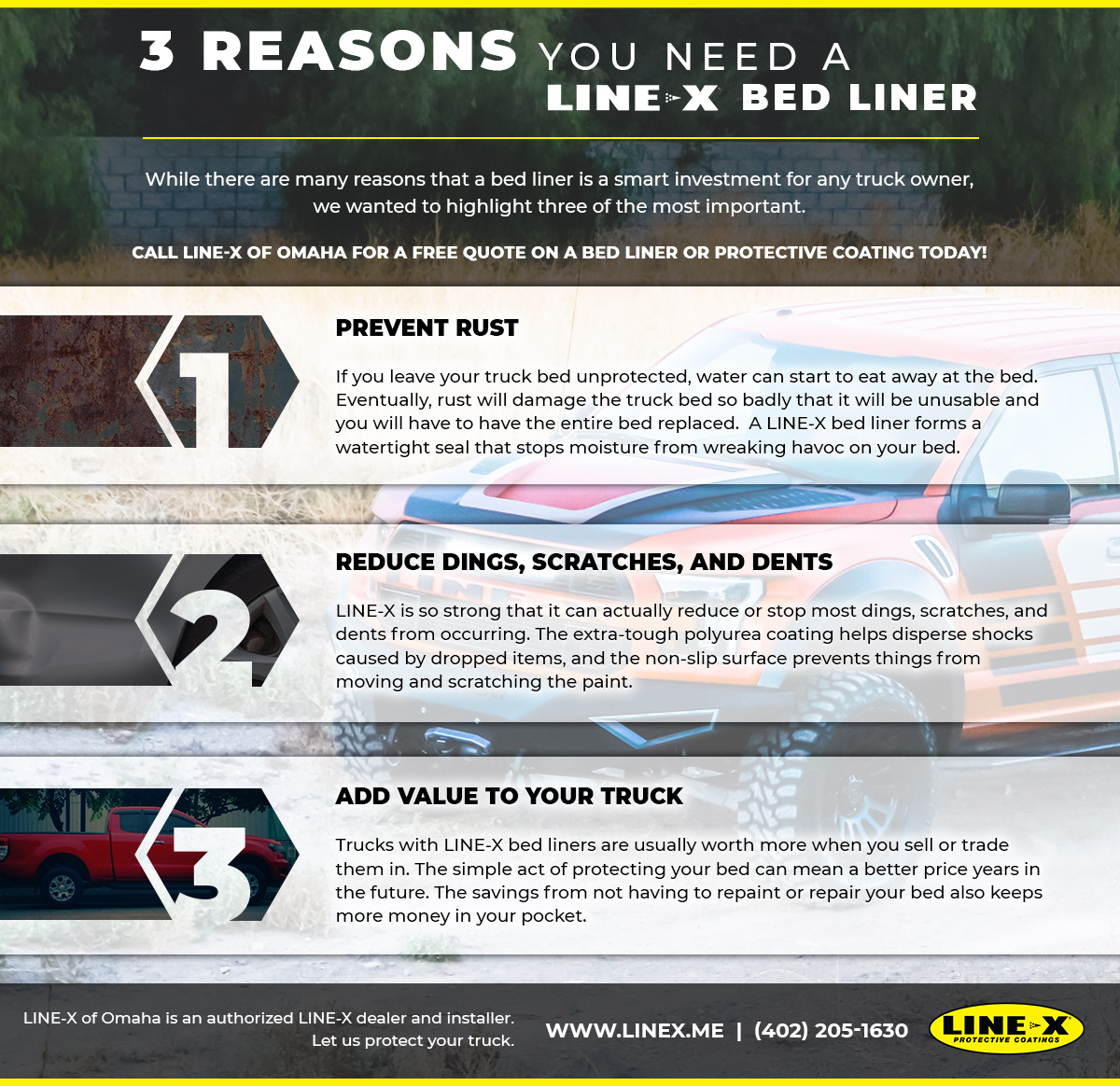 Prevent Rust
If you leave your truck bed unprotected, water can start to eat away at the bed. Eventually, rust will damage the truck bed so badly that it will be unusable and you will have to have the entire bed replaced.
A LINE-X bed liner forms a watertight seal that stops moisture from wreaking havoc on your bed. This seal also prevents the corrosive and staining chemicals from impacting the bed in negative ways. It is also extremely easy to clean — just grab a hose and spray out any debris or chemicals that are left in the back.
Reduce Dings, Scratches, and Dents
The LINE-X material is so strong that it can actually reduce or stop most dings, scratches, and dents from occurring. The extra-tough polyurea coating helps disperse shocks caused by dropped items, and the non-slip surface prevents things from moving and scratching the paint.
The same properties that help stop damage also make for a quieter ride, thanks to the material's special acoustic properties.
Add Value to Your Truck
Trucks with LINE-X bed liners are usually worth more when you sell or trade them in. The simple act of protecting your bed can mean a better price years in the future. The savings from not having to repaint or repair your bed also keeps more money in your pocket.
LINE-X of Omaha is an authorized LINE-X dealer and installer. Let us protect your truck. LINE-X can be applied to other parts of your vehicle, including the grill guards, your bumpers, doors, and even the wheel wells. If you have recreational vehicles like boats or dirt bikes, LINE-X can also safeguard them from many of the same hazards.
We can apply a bed liner or coating in a manner of hours and for a fraction of the cost of a new truck bed. Contact us now for a free quote on a single truck, or for an entire fleet. Our experienced technicians always perform the highest quality work, and every bed liner is protected by a lifetime warranty.